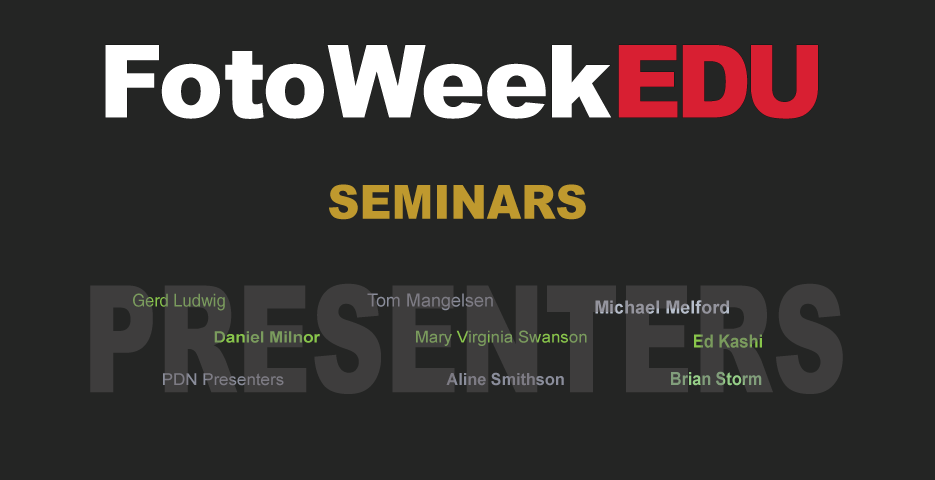 ---
PHOTOJOURNALISM & DOCUMENTARY - SATURDAY, NOV. 10th
Storytelling with Personal Vision - Gerd Ludwig    REGISTER NOW
10am – 5pm, Goethe Institut
This seminar by National Geographic photographer Gerd Ludwig concentrates on photojournalism and documentary photography. The goal of the workshop is to encourage photographers to develop a personal vision and take their photography to the next level.
The lecture will start in the morning with an inside look at how story ideas move from proposals to published articles in National Geographic Magazine.  Gerd will share his editing process, how he presents his work to editors, and how stories finally ran in the magazine.
Gerd will communicate his personal approach when shooting stories for National Geographic Magazine and other publications. He will focus on how to capture atmosphere and mood, while maintaining a sense of place;approach strangers and photograph them in an intimate fashion; and how to use form, lighting, and color in a sophisticated manner in order to communicate emotionally as well as editorially.
In the afternoon session, Gerd will talk about his own photographic techniques, such as his use of wide-angle lenses and handheld strobes. Capturing quality images at extremely high ISO's is one of digital technology's most important advances. As a result handheld strobes have become a more powerful tool in the field and Gerd will demonstrate his use of natural light in combination with handheld TTL flash to emphasize his message. Several of his stories that appeared in National Geographic Magazine would previously have been very hard or impossible to explore (Moscow Never Sleeps, Russian Orthodox Church - as well as work on Chernobyl).
Towards the end, Gerd will advise how to survive in today's marketplace, explaining how to take advantage of crowd-funding, social networking, and new media to get a personal project financed and seen by a wider audience.  As a pioneer in crowd-funding, Gerd successfully financed his most recent trip to the Chernobyl zone via Kickstarter, resulting in exhibitions, publications, and most recently, an interactive multimedia photo book in the form of the iPad app "The Long Shadow of Chernobyl".
Based in Los Angeles, Gerd Ludwig photographs primarily for National Geographic Magazine, occasionally shoots advertising, lectures at universities, teaches photographic workshops internationally and exhibits his photographs in galleries and museums around the world.  He is represented by Institute for Artist Management and has won numerous photographic awards, including the 2006 Lucie Award for InternationalPhotographer of the Year.
---
STRATEGY & CREATION - SUNDAY, Nov. 11th
Industry Knowledge For Beginning and Emerging Photographers - Aline Smithson & PDN's 30 Strategies for Young Working Photographers  REGISTER NOW
10am – 2pm, Goethe Institut*
Aline Smithson - The Broad View: Fine Art Portfolios from Context, to Creation, to Completion
The most important tool that a photographer can bring to their work is knowledge and insight.  Many photographers spend much of their education on learning the bells and whistles of cameras and changing technology, and don't consider what is equally as important: Creating a voice, having ideas, producing stellar prints, and knowing where the work they create fits into the contemporary art market.  Ultimately, what is most rewarding and most important is The Work.
This three-hour workshop is geared to beginning and emerging photographers.  During the session, we will explore how to develop ideas for projects by examining the fine art market and by exploring the context of award winning or meaningful portfolios.  Portfolios will be presented to also help explain contemporary genres of photography, touching on categories that are often offered in competitions or magazines, and we will look at what kinds of work fits into what kind of market.
In the workshop, we will also not only discuss how to create a portfolio but in addition, how to present a body of work to the fine art market, focusing on your ability to articulate your work and produce quality photographs.  The details that surround the work you make are important to establishing yourself as a professional.
…..
Located in Los Angeles, Aline Smithson is the founder and editor of LENSCRATCH, in addition, she is an educator and fine art photographer.  In 2012, The Griffin Museum of Photography presented Aline with the The Rising Star Award for her commitment to the photographic community.  She exhibits worldwide, with solo exhibitions in the U.S., Europe, and China and is published internationally.  She received the cover of PDN in Fall 2011 where she was recognized for work as an educator.
2pm – 5pm, Goethe Institut*

PDN's 30: Strategies for Young Working Photographers - Moderated by Holly Stuart Hughes, PDN Editor

Panelists - PDN Photographers: Rebecca Drobis, Peter DiCampo & Mark Mahaney and National Geographic Sr. Photo Editor, Alice Gabriner
Photo District News will bring together three of the PDN's 30 emerging  photographers  from different genres to offer their advice on launching careers in photography.  The PDN 30  photographers, all selected by PDN editors for its annual "New and Emerging Talents To Watch" issue,  will share specifics about how they got to where they are  today, how they  found their photographic voice and set themselves apart. They will explain how their first big breaks, and how they build their clientele and contacts.  In addition, an experience creative who hires photographers will offer valuable  advice on  the best ways to approach clients, how to win their trust and  how to set yourself apart. The seminar will conclude with an informative  Q  & A session.
*Please note: this seminar is a two part day and will feature Aline Smithson Followed by PDN's Rebecca Drobis, Mark Mahaney, and Alice Gabriner.
---
SELF PUBLISHED PHOTOGRAPHY BOOKS - MONDAY, NOV. 12th
How to Make a Book that Works - Dan Milnor, Blurb Photographer at Large REGISTER NOW

10am - 5pm, Goethe Institut
The ability to make your own photography book is one of the most important and entertaining developments of the entire digital revolution. Thanks to companies like Blurb, professional and consumer photographers alike are able to craft printed testaments to their life's work. From the simple and informal to the retrospective monograph, the choices of today are greater than ever before. This full day Blurb seminar will break down the choices, materials, and philosophy behind making your own photography book. The goal of the workshop is to provide a complete picture of the bookmaking process. Bring your notebooks, your questions and your sense of humor.
The morning session will begin with Daniel Milnor, Blurb Photographer at Large, showing bodies of work and short films regarding how the content of images influences book design. Attendees will then learn about creating a body of work, editing, sequencing and basic book design. The seminar will touch on borders, layouts and typography as well as the do's and don't of cover design. In short, attendees will learn how to define their project to help them jumpstart the bookmaking process.

The afternoon session will cover the Blurb book design options from Bookify and  Booksmart software to Adobe InDesign, as well as the new world of Ebook publishing.  Milnor will also share information regarding the realities of self-publishing verses traditional publishing, and why he began using Blurb back in 2006. Attendees will learn about building an audience for their book, learn how to best utilize the Blurb bookstore, and will see real world examples of Blurb books that work - including the variety of lives a single book can live.

The afternoon session will also have a surprise book related guess speaker who will share with the attendees her view on self-publishing as well as her overall commitment to the photography book.

This is an interactive seminar where attendee participation and feedback is essential. Attendees will have a chance to immerse themselves in this modern and wonderful print-on-demand world.
…..
Photographer Daniel Milnor splits his time between the smog-choked arteries of Southern California and the spiritual landscape of New Mexico. Milnor is a former newspaper, magazine and commercial photographer who now works primarily on long-term projects. His work has taken him from the rural corners of the United States to Africa, Asia, Europe and Latin America.
---
NATURE WORLD - TUESDAY, NOV. 13th
The Nature of Shooting Landscapes with Michael Melford
& Nature Photography with Thomas D. Mangelsen REGISTER NOW
10am-5pm, Goethe Institut
The Nature of Shooting Landscapes -Michael Melford
Come see, listen, learn and laugh with National Geographic photographer, Michael Melford. Besides being highly entertaining, Michael will share the stories behind the images he has shot for National Geographic, and the technics, and shooting methods that have proved to be so successful for him.
The Morning will start with Michael taking you with him on location thru his images, from Acadia National Park, to the wilds of Russia's Kamchatka peninsula. Watch, listen and learn about what he goes thru to get these images. Then the morning session will end with what are the two most important aspects of good photography- Light and Composition
Questions and Answers will precede a short break for water, and relief. Then Michael will start in with sharing more technical knowledge. He will show you what he takes with him in the field. You will be surprised by how simple it is, and realize that you too can make amazing images. Then Michael will show his workflow from camera to finished product.  All this in 3 hours. Will be jam packed with fun and information.
2pm – 5pm, Goethe Institut
Nature Photography with Thomas D. Mangelsen
With 40 years of experience pursuing the previsualized photographs of his mind's eye, Thomas D. Mangelsen will teach about the patience, commitment and passion needed to capture images of the natural world. Through the presentation of his own imagery and adventures, Mangelsen will explain the work and knowledge that creates the 'art.' With eight of his own galleries across the U.S. and a long history as a conservationist, Tom will reveal how to make an impact with your images and the important role of photography in protecting the animals and special places of the earth.
…..
Thomas D. Mangelsen has long been recognized as one of the world's premier nature photographers. More people worldwide have collected Mangelsen's limited edition prints than any living nature photographer.
Not only an artist but also a conservationist, he was recently named Conservation Photographer of the Year by Nature's Best Photography. Mangelsen's images are known for exquisite composition, light, animal behavior and illustrating a strong sense of place. Sensitivity to his subjects and a deep reverence for their surroundings is a defining mark of Mangelsen's work.
In 2006, Tom was chosen as one of Jane Goodall's Heroes of the Animal Planet and profiled in the television series of the same name. During his 40 years of image making, he has been profiled on many television programs including CNN, National Geographic, and NBC's "The Today Show."
Mangelsen has been recognized as Wildlife Photographer of the Year by BBC Wildlife, Outstanding Nature Photographer of the Year by the NANPA and one of the "100 Most Important People in Photography" by American Photo Magazine. In 2002 he received an Honorary Fellowship from the Royal Photographic Society.
Tom's outdoor ethics are deeply rooted in a childhood filled with adventure along the Platte River in Nebraska where he gained a passion for the wild that launched a lifetime commitment to the natural world.
---
MARKETING PHOTOGRAPHS- THURSDAY, NOV. 15th
Marketing Photographs with Mary Virginia Swanson REGISTER NOW
An Informative Overview on Today's Diverse Marketplace
10am - 5pm, Goethe Institut
This informative and richly illustrated one-day seminar by industry leader Mary Virginia Swanson will provide artists with an overview of today's diverse marketplace for photography and the necessary research skills and tools required to bring your work to an appreciative audience. Whether you are exploring a career in photography or an industry professional seeking insights into today's changing marketplace, this lecture will be of value.
MORNING SESSION: "FINDING YOUR AUDIENCE: AN INTRODUCTION TO MARKETING YOUR PHOTOGRAPHS"
In this visual presentation, author, educator and creative consultant Mary Virginia Swanson will discuss the most effective ways to identify appreciative audiences for your photographs, and to present yourself and your work in a professional, effective manner.  Swanson will survey the diverse range of opportunities for placement of your work, and share her expertise on researching, analyzing and approaching potential markets. She will explain the strategies surrounding submission of work to national and international juried exhibitions, as well as the value of investing in portfolio review events.  Industry art fairs such as AIPAD and Paris Photo will be discussed as a path to assessing market trends, as well as representation of artwork, providing insights into the ideal terms of such relationships.  Swanson will describe the professional practices necessary to effectively present your photographs, and share examples of effective self-promotional materials in print and on-line formats.  Lastly she will share her expertise in licensing images, helping to demystify reproduction rights. Whether you are interested in securing a regional, national or international audience for your photographs, this seminar will be beneficial to you.
AFTERNOON SESSION: "THE ROLE OF A PHOTOBOOK IN YOUR CAREER"
A publication featuring your photographs can be your most valuable marketing tool when introducing your work to influential industry professionals. The print-on-demand revolution has opened up new publishing possibilities; it has never been easier or more affordable to produce and market a book of your photographs. Traditional publishing brings a specialized team with experience with design, production, marketing and distribution systems to your project. In a self-publishing scenario you create the book you envision, but without the input and publishing house expertise. Which scenario is best for you? In this afternoon presentation for artists who wish to bring their work to book form, Mary Virginia Swanson will discussing traditional and self-publishing avenues towards helping to determine the pros/cons of each path.  This richly illustrated seminar covers the full publishing process from concept through marketing and beyond, and will enlighten those considering embarking on the producing an introductory brochure, exhibition catalogue or monograph of your work.
…..
Mary Virginia Swanson is a author, educator and consultant who helps artists find the strengths in their work, identify appreciative audiences and present their work in an informed, professional manner. 

She maintains a popular blog about opportunities for photographers called Marketing Photos and coauthored Publish Your Photography Book with Darius Himes (Princeton Architectural Press, 2011).  Her forthcoming self-published title Finding Your Audience: An Introduction to Marketing Your Photographswill be available Fall 2012.
---
DOCUMENTARY STORYTELLING- FRIDAY, NOV. 16th
Visual Storytelling With Passion and Purpose with Ed Kashi REGISTER NOW
10am - 5pm, Goethe Institut
The digital age is giving documentary photographers and photojournalists extraordinary new ways to tell stories with greater authorship and control.  This intensive workshop will allow attendees to share work in an intimate session to learn about how to create a personal documentary project for publication, books, exhibitions and websites.  With editorial photography changing so dramatically, there has never been a greater need for the documentary photographer to be able to put a personal stamp on their work.  There will be an emphasis on helping attendees develop their personal vision and unique styles.  As with most of Ed Kashi's work, the ultimate goal is to learn how to find a subject you are passionate about, document it in a compelling and unique visual style and disseminate the work effectively to change people's minds and help write history. Kashi will use as examples his many personal projects, including his seminal work on "Aging in America" and recent work about the Kurds in Iraq, India and the Niger Delta for National Geographic. Kashi will discuss story development, funding, setting your goals, and dissemination of your work. The workshop attendees will review photographs, multimedia and short films to see the range of opportunities currently available for creating and selling work. The session will be spent viewing some of Kashi's work, learning about the personal history, goals in life and photography of each participant, followed by group critiques of each participant's work and a free and wide ranging conversation. Depending on the number of participants, the review sessions might be short, so please bring no more than 10 images with a short introduction about your work, so everyone can have a chance to share their images and story.
…..
Ed Kashi is a photojournalist dedicated to documenting the social and political issues that define our times. As a member of VII Photo Agency, Kashi has been recognized for his complex imagery and its compelling rendering of the human condition. In addition to editorial assignments, filmmaking and personal projects, Kashi is an educator who instructs and mentors students of photography, participates in forums and lectures on photojournalism, documentary photography and multimedia storytelling.
---
MULTIMEDIA - SATURDAY, NOV. 17th
Multimedia Storytelling @ MediaStorm with Brian Storm REGISTER NOW
10am – 5pm, Goethe Institut
Join Brian Storm, Founder and Executive Producer of MediaStorm, to see how some of the top photojournalists have redefined their storytelling capabilities to include audio reporting and an eye towards publication in multiple media. Their work is capturing acclaim around the world in a time when reader's attention spans are running short. Storytelling opportunities continue to evolve as a result of technological innovations and an expanding media universe. The digital age is giving documentary photographers and photojournalists extraordinary new ways to tell stories. With this new ability, you can also exercise a greater level of authorship with your work. How can the long-form, in-depth visual storyteller satisfy both their journalistic and financial needs in this environment? Learn how to disseminate your work to create an impact on the subject, issue and hopefully society.

…...
Brian Storm is founder and executive producer of the award-winning multimedia production studio MediaStorm based in Brooklyn, New York. Prior to launching MediaStorm in 2005, Storm spent two years as vice president of News, Multimedia & Assignment Services for Corbis, a digital media agency founded and owned by Bill Gates. Storm was Director of Multimedia for MSNBC.com from 1995-2002 and Vice President of News, a joint venture of Microsoft and NBC News, where he was responsible for the audio, photography and video elements of the site.
---
The Goethe Institut is located in the heart of Washington, D.C. at 812 7th Street Northwest, 20001.