---
IRIS BROSCH - Photographer, Video & Performance Artist REGISTER NOW
Iris Brosch born in Gallersleben, works as a fashion, nude and art photographer, and video and performance artist in Paris and New York. Ms. Brosch has had exhibitions in the 51st and 54th Venice Biennale performance, Art Basel, Miami Art Museum & XXXXMAG, Cannes, International Fashion Photography Festival, New York, ICP, exhibition and auction, and "Different Views", exhibition in Vienna, 2002. www.irisbrosch.com

---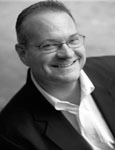 David Hicks - Photo Editor, Consultant, Portfolio Consultant REGISTER NOW
David Hicks has over twenty years experience providing visual direction for national and regional publications. As photo editor for Washingtonian Magazine, he art directed cover shoots and feature stories for Washington's top chefs, lawyers, and politicians. At USA Weekend Magazine, he art directed celebrity cover shoots for Jim Carrey, Uma Thurman, and Geena Davis. As a photo editor at the White House, he traveled internationally with President Clinton to edit and produce photo albums, press releases, and web content for the White House website.
In 2012, David launched artdavidhicks, a production, consulting, and editing company that assists photographers in the DC metro area. In January 2013, he managed a crew of 12 photographers to help produce Barack Obama/The Official Inaugural Book.
At the DC campus of Boston University's Center for Digital Imaging Arts, David teaches classes in Portfolio Development, Photographic Seeing, and Storybuilding. He is a regular contributing portfolio consultant to FotoDC, The Corcoran College of Art and Design, and his alma mater, the Rhode Island School of Design.
---

Fabian Goncalves Borrega - Curator, Art Museum of the Americas    REGISTER NOW
Fabian Goncalves Borrega has been the Exhibit Coordinator of AMA-Art Museum of the Americas, since 1998. The AMA is a museum dedicated to showcase contemporary art of the western hemisphere. Mr. Goncalves Borrega curates the AMA's contemporary photography program.
Dedicated to the arts, the Museum preserves, studies, and exhibits works by outstanding artists and carries out other activities of an educational nature, which increase understanding and appreciation of these cultures. The museum's permanent collection of 20th-century Latin American and Caribbean art is one of the most important collections of its kind in the United States. Equally important is its growing collection of contemporary photography.
Mr. Goncalves Borrega is most interested in reviewing developed and innovated bodies of work suitable for exhibitions. All types of imagery are welcome- from documentary to landscape, still life to conceptual. Aside from offering criticism and critique of the photography itself, Mr. Goncalves Borrega will evaluate whether the artworks are suitable for a solo or group exhibition in the Photo-gallery.
---
Kat Kiernan - REGISTER NOW
Kat Kiernan is the Owner and Director of The Kiernan Gallery in Lexington, Virginia. As the gallery's Director she has designed and managed numerous thematic group exhibitions, curating both solo exhibitions and pop-up shows. She recently founded Don't Take Pictures, a biannual publication focused on highlighting emerging fine art photographers. Her critical writings have been published in Big, Red, and Shiny and Art New England and she lectures on art collecting and investment. Kat holds a BFA in photography and continues to photograph professionally. Her work has been exhibited throughout the East Coast and has appeared in various publications.
---

Matthew Rakola - REGISTER NOW
Matthew Rakola is a professional photographer with over twelve years of full time experience. He began as a university photographer and quickly transitioned to doing corporate work and eventually his true passion, editorial photography.
His clients have included a wide range of organizations ranging from financial institutions such as Fidelity Investments to universities including Georgetown and Boston College, to non-profits including the American Cancer Society. His work has been published in a variety of magazines and newspapers including the Bicycling, Billboard, Forbes, Men's journal, and The New York Times. He is the chair of the DC chapter of American Photographic Artists and is a member of Wonderful Machine.
---
Carolyn Russo - REGISTER NOW
Carolyn Russo is a museum specialist and photographer at the Smithsonian's National Air and Space Museum.  In her role as a museum specialist she is involved with the acquisition of art and the planning of art exhibitions.  As a photographer Russo develops photography projects for book publications and exhibitions.  She is the author of three books: Women and Flight: Portraits of Contemporary Women Pilots (Boston, New York, London; Bulfinch Press, 1997), Artifacts of Flight (New York: Harry N. Abrams, 2003) and In Plane View: Abstractions of Flight (New York: powerHouse Books, 2007) and is currently photographing airport towers domestically and abroad for her fourth book entitled The Art of the Airport Tower.  Her work has been exhibited in museums nationally and most recently in China.
As a reviewer Carolyn is interested in all works with a common theme in preparation for either exhibition or book publication.  She is also interested in seeing works with an aerospace theme to consider for the Smithsonian's National Air and Space Museum art collection.
---
Robert Schlotter - Photographer REGISTER NOW
Robert Schlotter is a freelance photographer who has been selected to participate in various exhibitions, including ones in Berlin, Cologne, Leipzig and Essen. www.robertschlotter.com
---
Paul Simkin - Photographer REGISTER NOW
---

Frank Van Riper - Photographer, Author, Lecturer and Columnist REGISTER NOW
Frank Van Riper is a nationally know documentary and commercial photographer, author, lecturer and columnist. Author of several bestselling books, his work is in the permanent collections of the National Portrait Gallery, the National Museum of American Art and the Portland Museum of Art, Portland, Maine. For 19 years, Van Riper was the photography columnist of the Washington Post. His column, Talking Photography, is now available online at www.TalkingPhotography.com.
A former journalist and 1979 Nieman Fellow at Harvard, Van Riper is a popular teacher and lecturer and leads photography workshops in Maine, Umbria and Venice with his wife and professional partner, Judith Goodman. Most recently, they were co-authors of the bestselling book, Serenissima: Venice in Winter. For the past nine years Van Riper has been on the faculty of Photo Works at Glen Echo Park, Md.
Before leaving daily journalism for photography, Van Riper was the White House correspondent, national political correspondent, and Washington Bureau news editor of the New York Daily News. He is a native New Yorker and 1967 graduate of the City College of New York. In 2010, he was inducted into the CCNY Communications Alumni Hall of Fame. Frank prefers reviewing student or intermediate photographers working in documentary, street photography or portraiture.
---
The Goethe Institut is located in the heart of Washington, D.C. at 812 7th Street Northwest, 20001.